The Delaware Valley Bead Society will host a Mini Workshop & Trunk Show Featuring D7 Studio on Tuesday evening, June 21st beginning at 7 pm. Business meeting begins at 6:30 pm. at the Hunterdon County Senior Center Cafeteria (lower level), 4 Gauntt Place, Flemington, NJ.
Darlene Mansue is the owner of D7 Studio, were she spends her time traveling the Northeast working various bead shows showcasing artist made beads and unique stinging products such as Silver Silk Knitted Wire products. She also exclusively represents Nolly's Folly Studio hand made glass beads made by artist bead maker Nolly Gelsinger, as well as Marsha Neal Studio Pendants made by ceramic artist Marsha Minutella.
Both DVBS members and non-members are invited to participate in a mini workshop, a Starburst Drop Leather Bracelet project. All materials will be included in the cost to members, $14, and to non-members, $16. The project will be available in other colors. Open to all levels.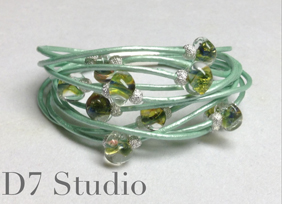 To sign up for the workshop and to register as a guest participants must email their name, address and phone number to odyssey5@ptd.net or call (908) 246-1231. Sign up deadline for the mini workshop is Friday, June 17th.